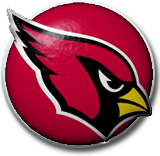 Arizona Cardinals - New HC Steve Wilks is a defensive minded coach who is unlikely to put the pedal to the metal on offense. OC Mike McCoy should be a RUN-FIRST offense and David Johnson will be the key. McCoy in all west coast systems was previously with the Chargers and Broncos and his offenses finished top 18 in yds and had 3 top 10 finishes. Had a bad year with Broncos last year.
BAD SOS: NFC West is a tough defensive division as well as they play NFC North and AFC West.

QB - Sam Bradford was signed as is very good when healthy but never stays healthy. 1st round draft pick Josh Rosen is very much like a Bradford clone: super accurate but maybe takes more chances. Both these are fantasy risks and shouldn't be drafted until late.

RBs - David Johnson – they are going to lean on DJ after missing all of last year. Luckily his injury was a wrist and not a leg and he should be fine. In 2016 DJ dominated yds from scrimmage 2,118 with 20 TDs. He could do it again and it is a CONTRAT-YEAR for him. He is a 1st or 2nd pick in PPR and 1 to 4 in standard. Chase Edmonds is a decent inexpensive handcuff.

WRs -Larry Fitzgerald 35, does not get as many targets when David Johnson is on the field but he still should get a lot of balls and has finished top 10 WR 2 of the last 3 years including 109 catches and 1,156 yds and 6TDs last year. Fitzgerald is most dangerous from the slot. If OC McCoy keeps Fitgerald there he can be a value if he drops in drafts. Christian Kirk was drafted in the 2nd round but is smaller and a rookie. Kirk is only worth a flyer. He really is a slot WR but may play outside. JJ Nelson is a small super fast long ball player that should be hit or miss each week. Brice Butler and Chad Williams will compete with Nelson so it is tough to draft any of them. Right now Brice Butler would line up outside as the WR2.

TE - Ricky Seals-Jones is very athletic and flashed last year. He might be a good sleeper since both QBs like to check down and OC McCoy does like to feature a TE but Seals-Jones is just a sleeper right now. Pre-season should show how often he will be used.

DST - lost S Tyrann Mathieu but have Buddah Baker who is similar. Chandler Jones, Patrick Peterson, Nkemdiche and Markus Golden who missed most of 2017 and is a great sack artist. Brandon Williams will start opposite Peterson at CB. Peterson will shadow the other teams best WR. The defense is switching from a 3-4 to a 4-3 so their should be growing pains but may help the LBs. It is a tough schedule and I just don't see a ton of improvement for this unit unless Wilks gets it out them in year one.

Oline – LT Humphries missed a lot of last year with knee injuries, Iupati and Shipley (preseason note: lost Shipley to an ACL) weren't that great but they drafted OC/OG Mason Cole, RG Justin Pugh signed from Giants is good if healthy, RT Andre Smith is a sore spot. Line should at least be better than last year and have a new oline coach.